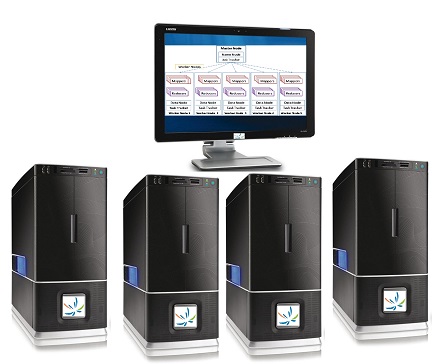 Get a 10TB hadoop cluster inhouse
We build these machines and train your staff on hadoop.
hadoop is not meant for virtualized setups, so don't setup hadoop on virtualized boxes
.
Contact us
for your requirement. We can build based on your budget.
We speak Data
Spider OpsNet
Spider OpsNet is engaged in building Big Data technology solutions for various industries to organize and utilize their data and find new avenues for revenue. We help organizations to achieve operational efficiency using our innovative solutions and services.
We use our 20+ years experience in data and databases to provide technology solutions for Big Data problems.
Services we provide:
Analysis of data ecosystem
Planning, design and migration to Big Data technology
Big Data Consultancy
Development of interfaces to data analytics
Mobile interface development
Embedded and sensor systems development
News
Spider OpsNet has started conducting hadoop trainings for an international brand. As part of this, we conducted trainings on hadoop in Chennai during the last week of November.Read More...
---
Spider OpsNet becomes a certified third party vendor for SAP as our product 'PowerSpider' is certified by SAP to run on SAP HANA.Read More...
---
SpiderOpsNet signs up with US based Colaberry.com to conduct web-based trainings on hadoop ecosystem of products including HDFS, mapreduce, pig, Hive, Hbase, Sqoop,Flume and OozieRead More...
---
Spider OpsNet participated in the Big Data forum organized by TechCircle in Bangalore. India's largest big data event, Techcircle Big Data Forum 2014 brought leading Big Data professionals, entrepreneurs and investors under one roof to share their experiences and thoughts on how India can make its name big in the world of Big Data. Besides an array of engaging panel discussions, it also provided an interview of the poster boy of Big Data in India, Dhiraj Rajaram from Mu Sigma; He shared his views on Big Data that were different from earlier panelists. There were also interesting panelists like Bhupendra Khanal from Simplify 360 and Arihant Patni from Hive India. Read More...
---
More News...